Portland is only 2 1/2 hours from Sydney. It is an easy 40 minutes to Bathurst and 30 minutes from Lithgow. The town is of interest as an historic mining town and as the place of the first cement works in Australia, which was opened in 1902. Cement produced at the Portland cement works helped build the city of Sydney and the cement was shipped around Australia until the works closed in 1991.
Portland is part of the gateway to the Central West and is ideally located between Oberon, Mudgee, Bathurst and Lithgow and the Blue Mountains. The town is surrounded by beautiful countryside and has many areas for bushwalking. It is close to the Wollemi and Gardens of Stone National Parks.
Portland is a mecca for people wishing to escape the hustle and bustle of the city to enjoy the surrounding countryside. Wander along the streets of Portland and enjoy shopping in stores where many hard to find artefacts can be found in the old wares shops and galleries. Also worth exploring is the Charlie Pinch Museum, which contains a large collection of Australian memorabilia.
While in Portland enjoy a picnic in the Town Common, take a leisurely stroll along the Williwa Creek, or simply relax in the quiet and peaceful surroundings. The Portland Town Common has 650 acres of natural bushland and picnic areas and is ideal for bushwalks. In fact, Portland is one of very few country towns left with a Town Common.
In 2001 Ron Bidwell, a signwriter by trade, together with his fellow "Letterheads" recreated vintage signs dating from 1895 to 1945 on local shop walls. Take a trip back in time and come and see historic brand names such as: Goanna Salve, Arnotts Famous Biscuits, Toohey's Ale, Uncle Toby's Oats, Kinkara Tea, Mother's Choice Flour, Bushell's Tea, Solvol, Federal Safety Matches and Swagman Blend Tea.

[Click on image to enlarge]
If the movie does not play, please download the Flash Player plugin here.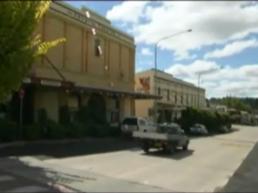 Video Sponsored by Local Faces and Places